Oceans5 Dive: Zero to Hero – Make your scuba diving dreams a reality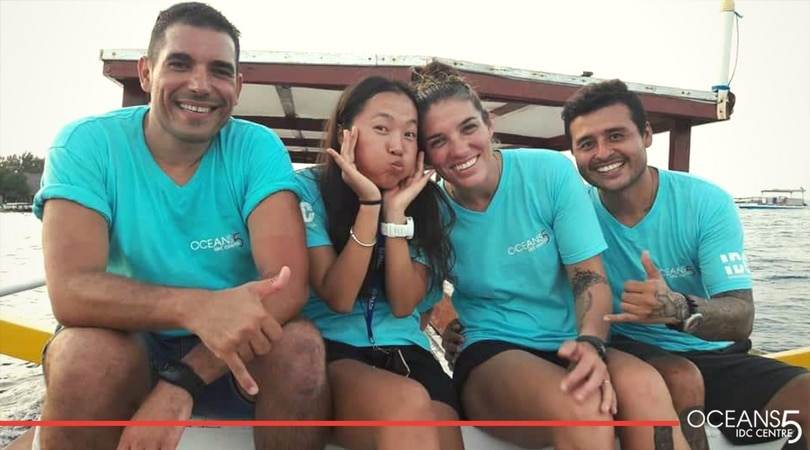 Sometimes you've got to listen to your gut, and if it's telling you you're meant to be a scuba diver, even though the only thing you're diving into is a desk full of paperwork, we have a way out.
Trade in your feet for fins, work boots for dive booties and take the plunge – Or back- wards role entry – into Oceans 5 Dive's Zero to hero program. Join our dive family living and working on the wonderful Gili Air. An island surrounded by peaceful waters, filled with friendly faces and covered in giant green turtles.
As the name implies, this program is set up for individuals with zero dive experience. So if you've been dreaming about the underwater world ever since you could say 'Nemo', deep down convinced you were a fish in your other life, now is the time to act.
Still can't quite believe it's possible? Here's how we turn you into a dive professional injust seven months.
You'll begin by completing your Open Water Dive Course. This three-day course will teach you about the science of diving, the skills you need to dive safely and of course how to dive. It's hard to describe the feeling you get when you dive for the first time; it is the closest you can come to walking on the moon, this gravityless, alien world just waiting to be discovered.
Next, you'll do your Advanced Open Water course through which you'll fine-tune your technique as you dive deeper into the underwater world. In just two days you'll go on a series of adventure dives that will turn you into that diver you always wanted to be; controlled, calm and confident. From circumnavigating wrecks to night dives to superman-ingit through fierce currents, your diving will be completely transformed.
The Rescue Diver Course then teaches you how to help other divers in need as you become the more experienced diver. You'll go from a regular diver to a lifesaving leader of the underwater world, all in just three days.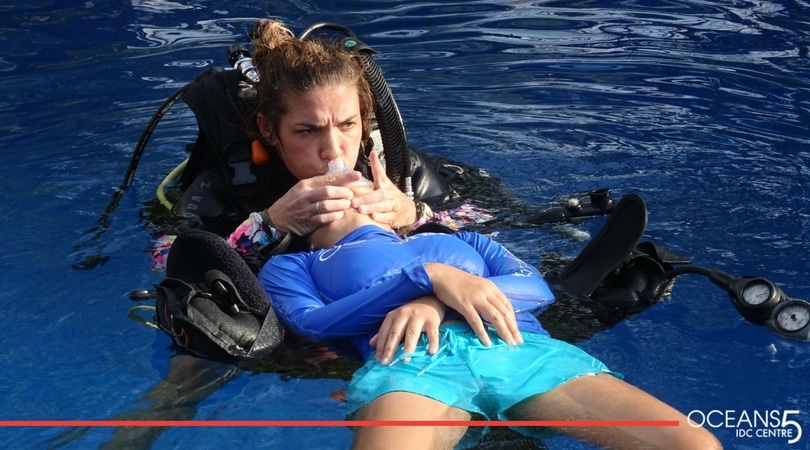 Then it's time to take the first step towards becoming a dive professional with the Divemaster Internship. This course takes around six weeks to complete so even if you're not interested in becoming an instructor; it's a great way to immerse yourself in the scuba diving world and learn all you need to know to be a top tier diver.
Being an Instructor Development Centre Oceans5 Dive can then complete your dive training, certifying you as an instructor only six months after you went on your first dive. Imagine that – from zero to hero in just seven months! And best of all, you get to spend those precious months on wonderful Gili Air. A place where sunsets are a daily ritual, life is as soft as the sand you sunbake on, the water is warm, the beer is cold and the people, are a pretty special bunch.
Take the first step towards changing your life forever by clicking here.
Ps. The turtles can't wait to meet you!