PADI IDC Gili Islands: Scuba Dive Instructor Training Course Gili Air
Are you already a divemaster and you like to teach people to become scuba divers?
Come and join the PADI IDC Gili Islands (Instructor Development Course) at our 5 star IDC Dive Resort and become a PADI scuba dive instructor in Indonesia.
Imagine working in stunning, tropical dive locations around the world, working on dive boats or on exotic islands, like the Gili Islands in Indonesia, and introducing the amazing aquatic world to others.
Teaching scuba diving gives you the opportunity to share your love of the underwater world with others while doing what you enjoy – being in, around and under water.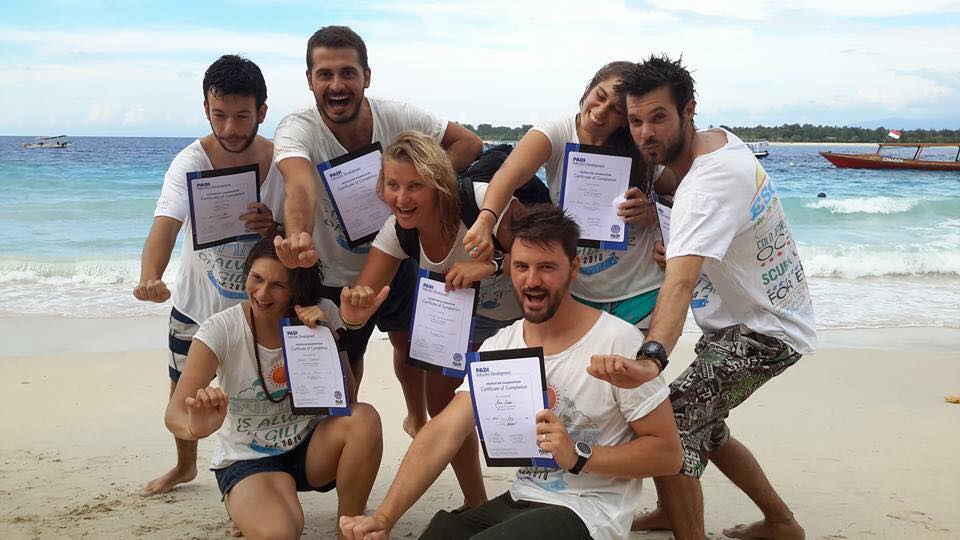 Looking forward to your job every day. That is what PADI dive instructors do!
Our Career Development Center and IDC Gili Islands give you the perfect location and conditions to successfully accomplish the PADI Instructor Scuba Diving Training Course (PADI IDC) and IE (Instructor Examination). Our PADI IDC You-Tube channel shows you all our facilities and how we conduct PADI Instructor Courses.
During the Instructor Training you will enjoy the tropical island atmosphere of Gili Air. The island is easily reached from Bali, Lombok or other parts of Indonesia. Without any cars or motor bikes, with plenty of bars and restaurants to hang out, it is the perfect spot to do your dive instructor course and to start your career as a dive instructor.
During your stay on Gili Air, you will experience beautiful diving, right on your doorstep.
PADI Instructor Development Course at Gili Air
The PADI Instructor Development Course (PADI IDC) at our dive center will be taught in a small group of students, so you will get a lot of attention from your Course Directors Sander Buis, Joeri van Hal, Alina Conroy, Pierre Gruter and Giny Pinto and our team of PADI IDC staff instructors.
We offer 10 PADI IDC's in 2019. The IDC's are taught by the PADI Course Directors. The PADI IDC Gili Islands takes 14 days. And even if your are not a native English speaking person, don't worry! The course directors are covering English, Dutch, French, Spanish and German.
Find more info on the PADI IDC Gili Islands dates and prices and pick the PADI Instructor Development Course (PADI IDC) date at the Gili Islands that you fit.
Prerequisites for the PADI IDC Gili Islands:
Have all the required materials
The PADI IDC candidates should have a Dive Leader certification: PADI Divemaster or leadership-level certification with a recognized recreational diver training organization who is either an instructor member in good standing, or a diver with proof of certification in diver supervision and management including proof of rescue diving certification
60 logged dives to start the Dive Instructor Traing Course. 100 logged dives at the Instructor Examination (IE)
Documented experience in night diving, deep diving and underwater navigation.
Be 18 years old
Have Medical clearance attesting to dive fitness signed by a physician within the previous 12 months.
Be a Certified diver for six months before starting the PADI IDC
Show proof of EFR Primary and Secondary Care course completion (or qualifying training) within the last 2 years.
If not a PADI Divemaster, complete the PADI Divemaster course diver rescue skills assessment.
Submit documentation of qualifying certifications for entry level, advanced, rescue and leadership level.
How to start?
There are a few different options for you how to start your PADI instructor course here at Gili Air online.
1) The PADI eLearning Instructor Course part
It is a little bit more expensive, but there are 2 huge advantages to choose this program.
If you have a limited amount of time and want to do the PADI instructor course more quickly, you will save 3 days of your PADI IDC Gili Islands. If you choose this option you will need to come fully prepared for the instructor course and we also highly recommend doing the Dive Theory online in advance.
This will results in a more relaxing instructor course. Our Instructor course will run with the lectures for those who have not completed online learning. This gives you the opportunity to relax, to go on a free fundive or to study.
2) PADI Dive Theory Online
As part of the Instructor Course you are required to take 5 dive theory exams. For a relaxing PADI IDC we recommend to study the dive theory before you arrive on the Gili Islands in Indonesia.
How can you do this? You can use the Diving Knowledge Workbook and Encylopedia of Recreational Diving, but the Dive Theory online is a great way to do it as well.
Each online section consists of multi-media instructional sections followed by study questions. End-of-section assessments verify eLearner mastery of each of the following:
The Physics of Diving
The Physiology of Diving
Diving Equipment
Decompression Theory and the Recreational Dive Planner
Diving Skills and Environment
Have a look at the online parts of the PADI Instructor Course!
Summary PADI IDC
| | |
| --- | --- |
| Duration: | 14 days |
| Dives: | Free diving 2 weeks prior IDC |
| Price: | EURO 1200 |
Included in the price EFRI, excluded PADI materials and PADI fees