Open Water Course at the Gili Islands
Ever wondered what it is like to swim with the fish beneath the waves? Your underwater adventures start right here with us on Gili Air in Indonesia. Come and get all your diving certifications with us starting with your Open Water course.
The Open Water Course is the worlds most accepted and acknowledged scuba course. Millions have learned to scuba dive and most have continued to explore the mysteries and marvels of the aquatic paradise through this course.

To enroll in an Open Water course (or Junior Open Water course), you must be a minimum of 10 years old. You need sufficient swimming skills and want to be in suitable physical health. No previous knowledge or experience is necessary.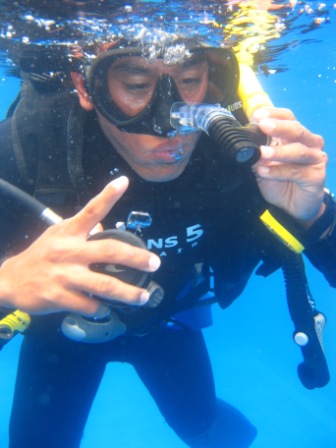 What will you learn during the Open Water Course?
The Open Water Diver course involves three stages:
Knowledge Development (online, independent study or in a classroom) to understand basic principles of scuba diving
Confined Water Dives to learn basic scuba skills
Open Water Dives to use your skills and discover!
Limited Stay? The Scuba diver is spot-on for you! While the Open Water Course here at our dive resort in the Gili Islands takes 3,5 days, the Scuba Diver course take only 2 days.

How can you start learning an Open Water Course?
Enroll in an Open Water Online – PADI's eLearning option – and you can start learning right away. Open Water Online gives you the background knowledge you want to dive safely and lets you learn at your own pace through an interactive computer-based package. You can begin right now! Then once you arrive here on Gili Air you have already learned the basics and can get started right away. You dont have to wait till you are at the Gili Islands. With the Open Water touch you can read the manual and make the knowledge reviews in the airplane!

What scuba gear will you use?
All our gear is new and with no expense spared on quality manufacturers. We use Aqualung Bouyancy Control Devices (BCD), Apeks regulaters and the very best masks and fins to make you feel safe and sound during your dives here with us.
The next step after your Open Water Course is the Advanced Open Water Course. It doesn't take a lot of time to complete this course; only 2-3 days! And you will have 5 more beautiful dives around the Gili Islands in Indonesia.
Summary Open Water Course
| | |
| --- | --- |
| Duration: | 4 days |
| Dives: | 4 |
| Price: | EURO 385 |