PADI 5 star IDC Dive Resort Oceans 5 Gili Air!
Dive Resort Oceans 5, located on Gili Islands, Indonesia, offers the full range of PADI scuba diving courses from beginner to Divemaster and Scuba Dive Instructor Course level (PADI IDC).
Oceans 5 is a multi-award winning PADI dive resort. This is the result of experienced scuba dive instructors, who are teaching within the PADI standards and regulations. Oceans 5 is teaching in small groups, maximum 4 persons in a group, and has 2 huge swimming pools where the students learn the diving basics in a safe and comfortable environment.
Oceans 5 Dive Gili Air is a PADI 5 Star Instructor Development Dive (PADI IDC) Resort, Career Development Center, DDI (Disabled Divers International) Instructor training Center, Reef Check facility and Shark Guardian Dive Center.

Gili Air in Indonesia
Of the three Gili Islands just off the coast of Lombok, Gili Air is located closest to Lombok and is known for its tranquil atmosphere.
Gili Air means "Water Island", which refers to the lush vegetation on the island. White sandy beaches, no motorized transport (the only transport on the island is by horse cart or bike), friendly local villagers, a good variety of restaurants and accommodation ranging from basic homestays to luxury private villas make Gili Air a serene place for a relaxing, yet adventurous holiday.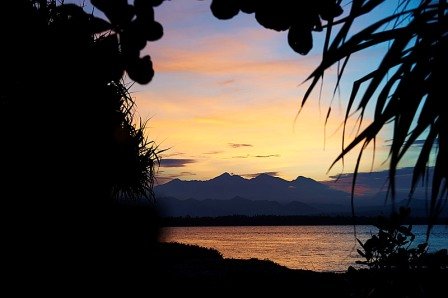 Diving around the Gili Islands
Dive Resort Oceans 5 Gili Air is situated in the harbor and has access to more than 20 different dive sites around the Gili Islands. Oceans 5 Dive Gili Air house reef is located right in front of the dive shop, all the other dive sites are only a short boat ride away. Multilingual instructors can teach you in Dutch, English, German, French, Spanish and Bahasa Indonesia.
Dive Resort Oceans 5's bungalows at Gili Air in the Gili Islands
Oceans 5 has 12 bungalows, from standard rooms till pool bungalows. The pool bungalows are located around the 2 pools at the dive resort. For breakfast, lunch or just a coffee you can find the restaurant, bar and coffee bar at the front of Oceans 5. The restaurant is called Coffee & Thyme. If you like shopping or buying little gifts for home, Oceans 5 has 3 boutiques where you will find all kind of little presents.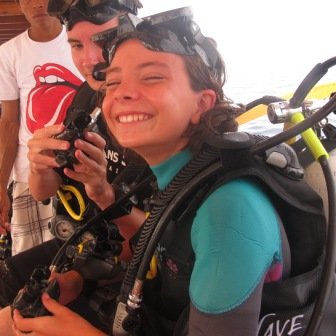 Oceans 5 and its environment
Every week Dive Resort Oceans 5 Gili Air organizes free beach and reef clean ups. Divers as non-divers are helping us to clean the harbor of Gili Air.
Dive Resort Oceans 5 Gili Air organizes presentations about marine life. Last year Manta Watch, Shark Guardian, Gili Eco Trust, Aquatic Alliance and Mola Research Lembongan gave us a visit.
At last Dive Resort Oceans 5 Gili Air is a supporter of the Ocean CleanUp project, a fantastic project that hopefully will solve the plastic problem in our oceans.