Scuba Diving for Children and Teenagers
Starting from 8 years old, children can have an underwater experience by scuba diving in the swimming pool. We can offer the children 2 kinds of programs; Bubblemaker and Seal Team.
PADI Bubblemaker
The PADI Bubblemaker is a real underwater party, conducted by our team of professional scuba instructors at our Dive Resort. In the pool, no deeper than 2 meter, we will teach the kids the basic diving techniques required to dive safe.
It is also possible after the pool to dive in confined open water with a maximum depth of 2 meters with a dive instructor. A session takes half a day, pool and confined open water session.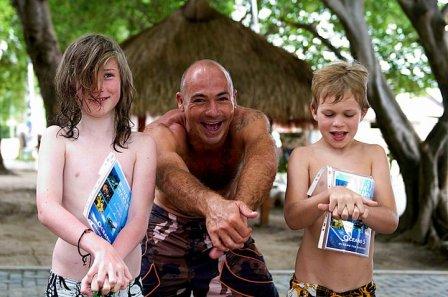 What will the kids learn during the bubblemaker program?
Experience how it is to dive under direct supervision of a PADI Instructor
Taking their first breaths underwater
Dealing with scuba equipment special designed for kids
Being aware of the beautiful underwater world of the Gili Islands
PADI Junior Open Water Course
Starting from 10 years old, children can take the full Junior Open Water Diver Course and enjoy scuba diving in the ocean, anywhere in the world. Our Open Water Course takes 4 days. The course is not different comparing to the adult open water course. The children have to master the same knowledge and skills as the adults. Only there is an different depth restriction for 10-11 years old children comparing to the 12 years and older, they can go only to a maximum depth of 12 meters instead of 18 meters.
PADI Junior Advanced Open Water Course
If the children are certified and they have their open water certification, we offer them the possibility to continue their diving education with the junior advanced course. This course has 5 dives with one of our dive instructors.
Navigation and deep are the required dives. The children can choose the other 3 dives by their own interest, like wreck, photo and fish identification. The only difference with the adult course is that the 12 till 15 years old children can dive to a maximum depth of 21 meters instead of 30.
Equipment for the children
We have special equipment for the children, little BCDs, fins, masks ans tanks. Nothing is more frustrating for the children when the equipment doesn't fit. It will take the fun part away.
Our goal is to dive safe with the children and make them comfortable and safe divers with awareness for the environment.
Oceans 5 is great with the fun part! The kids will have a lot of fun with one of our instructors in the pool. There will be games played like the coin game, swimming through hopes and racing underwater with eggs.
Get your kids in the water!