PADI Instructor Development Course at Gili Air
The PADI Instructor Development Course (PADI IDC) at our dive center will be taught in a small group of students, so you will get a lot of attention from your Course Director Sander Buis, and our team of PADI IDC staff instructors.
We offer 9 PADI IDC's in 2024. The IDC's are taught by the PADI Course Director. The PADI IDC Gili Islands takes 20 days. And even if your are not a native English speaking person, don't worry! The course director is covering English, Dutch, German and Indonesian. 
Prerequisites for the PADI IDC Gili Islands:
Have all the required materials
The PADI IDC candidates should have a Dive Leader certification: PADI Divemaster or leadership-level certification with a recognized recreational diver training organization who is either an instructor member in good standing, or a diver with proof of certification in diver supervision and management including proof of rescue diving certification
60 logged dives to start the Dive Instructor Traing Course. 100 logged dives at the Instructor Examination (IE)
Documented experience in night diving, deep diving and underwater navigation.
Be 18 years old
Have Medical clearance attesting to dive fitness signed by a physician within the previous 12 months.
Be a Certified diver for six months before starting the PADI IDC
Show proof of EFR Primary and Secondary Care course completion (or qualifying training) within the last 2 years.
If not a PADI Divemaster, complete the PADI Divemaster course diver rescue skills assessment.
Submit documentation of qualifying certifications for entry level, advanced, rescue and leadership level.
How to start?
There are a few different options for you how to start your PADI instructor course here at Gili Air online.
After we received your deposit for the PADI Instructor Develoment Course, you will receive by email your PADI Instructor Development Course Digital Crewpack. When you are logged in you will find all kind of information.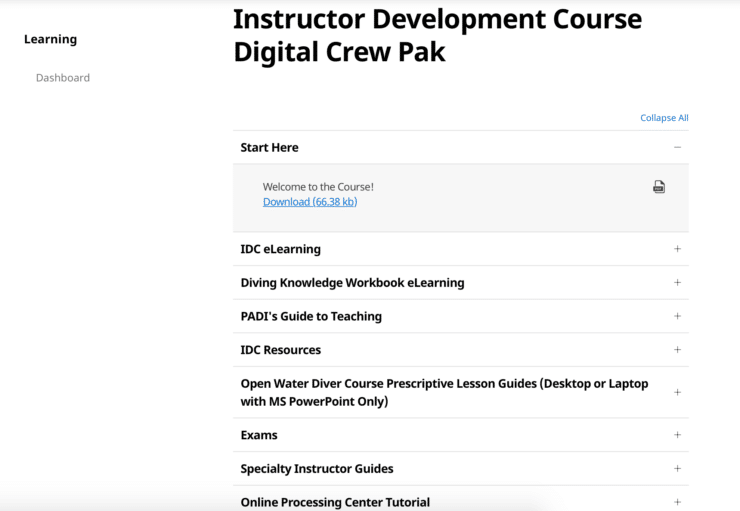 Best part of the PADI eLearning is, you can choose almost every language in the world. So if English is not your native language and you like to read the information in your own language, it is possible!
The best way to start your PADI IDC is to start reading the topics under the tab "IDC eLearning". Before the PADI IDC starts you should have finished all the eLearning. The topics of the eLearning are: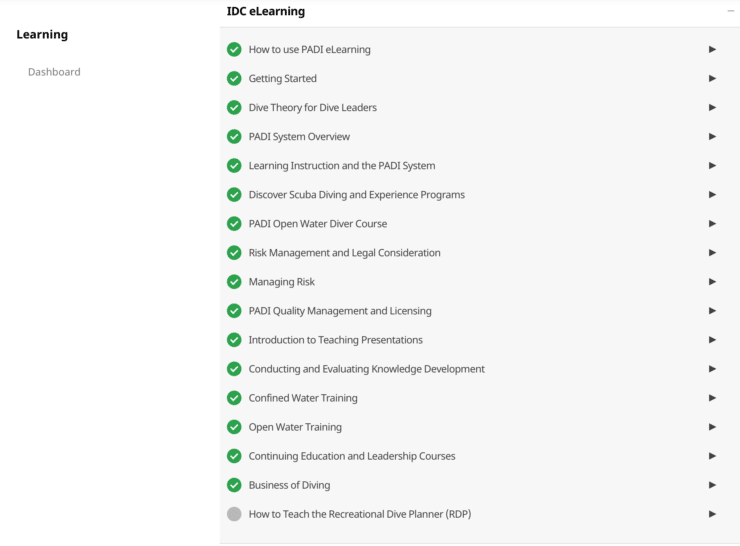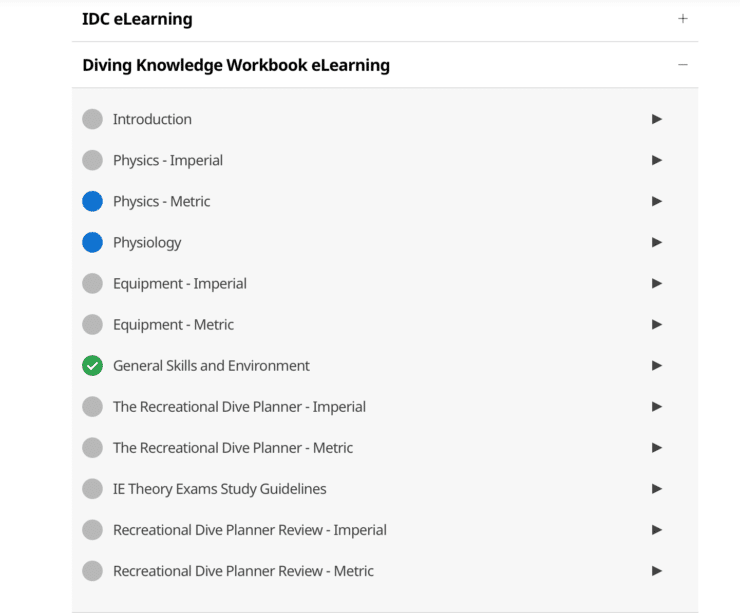 If you like to brush your dive theory you will find in the main menu the tab "Diving Knowledge Workbook eLearning". You can practice the 5 topics of the dive theory exam.
Another way to start your PADI IDC is to start with the PADI Dive Theory Online
As part of the Instructor Course you are required to take 5 dive theory exams. For a relaxing PADI IDC we recommend to study the dive theory before you arrive on the Gili Islands in Indonesia.
How can you do this? You can use the Diving Knowledge Workbook eLearning and Encylopedia of Recreational Diving, but the Dive Theory online is a great way to do it as well.
Each online section consists of multi-media instructional sections followed by study questions. End-of-section assessments verify eLearner mastery of each of the following:
The Physics of Diving
The Physiology of Diving
Diving Equipment
Decompression Theory and the Recreational Dive Planner
Diving Skills and Environment
Have a look at the online parts of the PADI Instructor Course!