Welcome to our Underwater Paradise!
The Gili Islands are a fantastic place to dive. From beginner to experienced diver, these 3 little islands, situated on the North of Lombok, are an incredible underwater playground for everyone.
With more than 20 dive sites, all within a 10 to 20 minute boat journey from Gili Air, there is something to see for everyone. The different topographies of the dive sites, such as walls, slopes, wrecks or canyons inhabit a large variety of marine species.
The Gili Islands are very famous for the Green and Hawksbill turtles and among the many different species of tropical reef fishes, you will have the opportunity to spot sharks, such as white and black tip sharks, as well as bumpheads, cuttlefish, octopie and macro species like seahorses, many different kind of nudibranches, ghost pipefish and many more.
This tropical heaven is an ideal place for everyone. A lot of dive sites are ideal if you have never dived before, and you fancy taking a plunge.
If you are an experienced diver and looking for more challenges, you can have fun and adrenaline with the deep dive sites and the drift dives.
You also have the opportunity to see Mandarin fish right in front of the dive center during our sunset dives.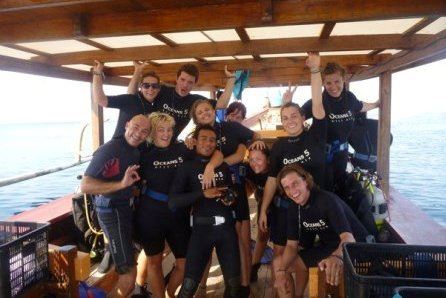 We are a 5 star PADI IDC centre and Career Development Centre, the highest rating a dive centre can get! Our modern and luxurious facilities are stocked with new and quality brand equipment.
Dive Courses

You never dived before and you would like to try, we can teach you!
The introduction dive is a half day course where we teach you the basics in the pool and then take you on a boat dive. This is the perfect experience to give you a taste of diving!
The PADI Open Water Diver Course is a 3,5 day course to become a certified diver. After finishing this course you can dive worldwide up to 18 meters.
If you would like to extend your diving skills, you can do the Advanced Course, some specialty courses like Nitrox or a Deep specialty or even a Rescue Course.
We also teach professional level courses such as the Divemaster Course and the Instructor Course. For divers that didn't dive for a long time, we offer Scuba Reviews as a refresher course.
Your children can also learn to dive! As from 10 years old children can join the Open Water Diver Course. Starting from 8 years old, children can take a Bubblemaker introduction dive in the swimming pool.
​Best Dive Opportunities!
Our local English speaking guides offer fun divers a unique experience, with their extensive knowledge of where to find the most interesting and unusual marine life at the dive sites. We cater 3 dives a day - at 8:30am, 11:30am and 2:30pm. You can also sign up for a night dive. We dive in small groups of max 4 divers from the same level per guide or instructor. We can provide air as well as Nitrox blends. If you would like to join us for a fun dive, just drop by at our shop and sign up for some diving, easy!