Discover Scuba Diving!
For If you are 10 years old or older and you have never dived before, we have an one day program for you. Give it a try! After a basic introduction in diving theory and practice in our huge pool, go for a discover scuba dive or introduction dive with an instructor in the ocean.
If you want to find out but aren't quite ready to take the full Open Water Course, the Discover Scuba Diving will let you try scuba diving to see if you like it.
The discover scuba diving program is a 1 day program were you will be trained by one of our PADI scuba dive instructors.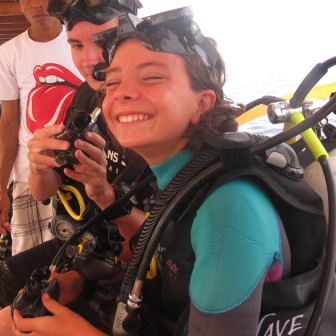 This scuba diving program is actually not a scuba certification. However during this introduction dive you'll learn how to use scuba equipment, how to swim underwater and you'll get a proper introduction to what it takes to explore the underwater world during an ocean dive to 12 meters.
During the dive your instructor will show you all the beautiful underwater world of the Gili Islands. There is a big chance for you to spot some turtles, clown fish, lion fish and blue star fish. We will give you an dive experience you will never forget!
Before you go in the pool we have to go over the explanation of the scuba equipment and the skill you have to master in the pool.
The skills in the pool
You dive in the pool with an experienced dive instructor close to you. In the pool he will demonstrate all skills and you will practise them. The skills are:
Inflate and deflate buoyancy control device
Breathing underwater
Equalization techniques
Regulator clearing (2 ways)
Regulator recovery
Clearing a partial floated mask
Swimming around the pool
You will practice these skills in the shallow water part of the pool.
Open Water Course
If you like to dive more after your introduction dive we have several options:
Another dive under direct supervision of a dive instructor. Still you don't earn a scuba diving certification. But it is the best option if you are time limited or if you dont like to study.
Starting your Open Water Course. This takes just 3 days more. And at the end, if you meet all performance requirements, you will be certified as an open water diver. This means you can dive together with another certified diver to a depth of 18 meters.
Summary Introduction Dive
| | |
| --- | --- |
| Duration: | 1 day |
| Dives: | 1 pool session and 1 dive |
| Price: | IDR 950.000 |