PADI Divemaster Course in our dive resort
The Divemaster course on Gili Air is where your professional level of training begins. Working side by side with our instructors here in our resort in Gili Air you will tweak your diving capabilities and polish up on all your skills you learned during you previous education with PADI.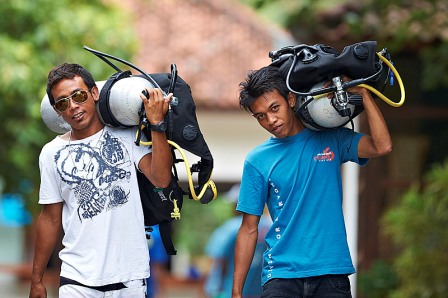 You'll increase your dive experience; learn about management and the logistics of a career development center. Guiding and supervising clients around our dive sites and assisting our experienced instructors during diver training, as a PADI divemaster will become a role model to divers around the world. Whether you want to work at a remote dive resort or closer to home at your local dive shop, the adventure of a lifetime awaits you.
Where do you will get a better experience in diving during your training in a PADI Career Development Center! This is what you like, this is is what you want!
Divemaster Internships
We don't offer FREE divemaster internships, or divemaster internships in exchange for work. The reasons are:
If you like to work in Indonesia you need a working permit
We like to have an obligation to you to give you the best possible divemaster course.
Our dive instructors, your mentors, have to earn a salary too.
Requirements for the Divemaster Course
You have to be Advanced Open Water Diver and Rescue Diver who are at least 18 years old may enrol in the Divemaster course. You also need to have:
Emergency First Response Primary and Secondary Care (CPR and First Aid) training within the past 24 months.
A medical statement signed by a physician within the last 12 months.
At least 40 logged dives to begin the course and 60 dives to earn certification.
Note that qualifying certifications from other diver training organization may apply.
Starting the divemaster course
You can start your divemaster course at home by registrating yourself at the PADI website for the online Divemaster program. This programs takes you through the acadamic part of the divemaster course by text, pictures and videos. It costs a bit more comparing the other way of studying the theory at our tropical paradise. But if you are time limited or you don't like to study under the sun, this is the best option. Have a look at the divemaster eLearing part at the PADI website.
There is also another online program that you can take. It is called the Online Dive Theory. Here we will test you the 5 sections of the theoretical part of the diving knowledge of the instructor course. Your diving knowledge will be straight away at the same level as a dive instructor. This will be a huge advantage if you like to become a dive instructor in the future.
But if you dont have the time at home to study, during your divemaster training at our dive resort there will be time enough for studying the theoretic part of the diving course. The divemaster course is a flexible course, so we can make a tailor made diving course for you.

What will you learn during your Divemaster Course?
Our Divemaster course educates you to become a leader and take control of most dive activities. Through knowledge development, training waterskills, workshops and hands-on practical assessment, you cultivate the abilities to organize and direct a variety of scuba activities. Topics and practical workshops include:
The role and characteristics of the Divemaster
Supervising activities and assisting with student divers
Diver safety and risk management
Divemaster conducted programs and specialized skills
Business of diving and your career
Awareness of the dive environment
Dive setup and management
Mapping a dive site
Conducting dive briefings
Organizing a search and recovery project and a deep dive
Conducting a reactivate program and skin diver course
Assisting with Discover Scuba Diving and leading Discover Local Diving programs around the Gili Islands.
We are a Career Development Dive Resort on the Gili Islands. This is the highest rating for a dive resort. During the divemaster course you learn how an IDC dive shop works. Also we have some extra additional workshops at our dive center during the Divemaster Course.
Workshops
The workshops at our diving center are extra workshops. Putting these extra elements in your course will give you more knowledge and gives you an advantages to use them in the future.
Knot workshop
How to use a liftbag workshop
How to use a SMB workshop
How to check a current workshop
How to plan a dive workshop
Safety procedures on the dive boat
Beach and Reef Clean up workshops
Gili Shark Conservation workshops
How it is to work in a PADI Career Development Centre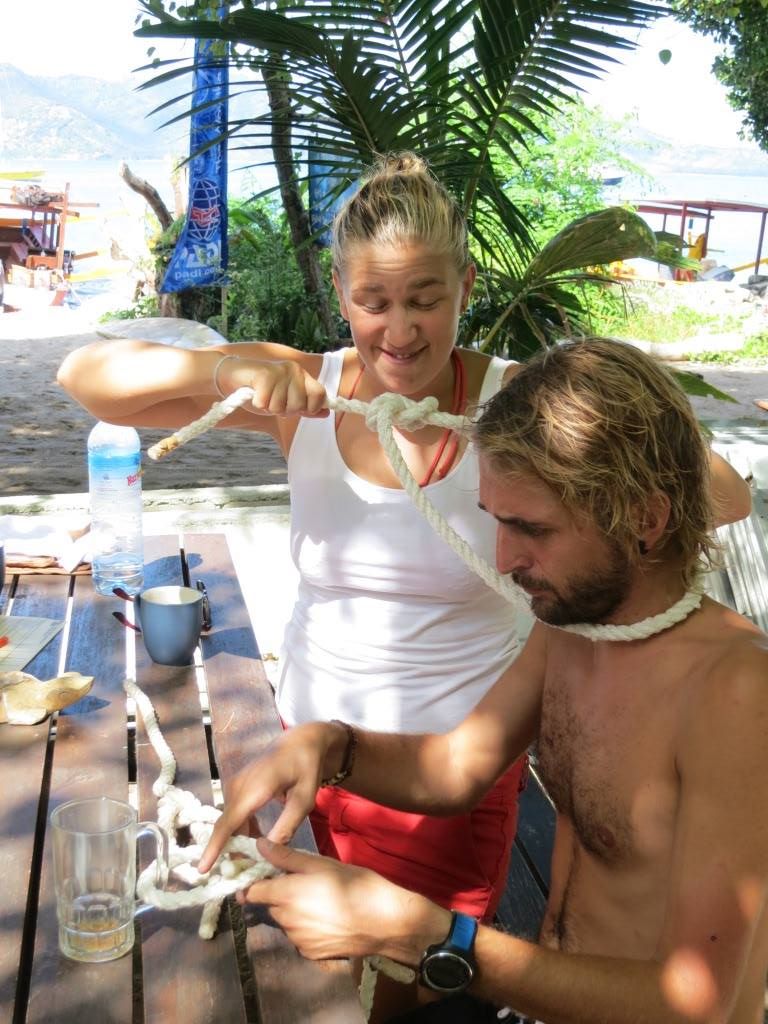 Our Divemasters are all equally trained and assessed to insure the highest quality of training. We take all the training from "zero to hero" diving very seriously insuring safe divie practices at all times and the best level of professionalism in the industry. Zero to Hero program means starting with no dive experience at all till becoming a Divemaster. This is all possible at our Career Development Dive Resort in Gili Islands in 3 months.
After your PADI divemaster course you will be well trained to become a Dive Instructor! The Instructor Development Course (IDC) will take 20 days. We have an in-house course director who teach every month a dive instructor course. If you are trained as a Divemaster at our dive center you will have no problems during your Instructor Course. You only have to be certified for 6 months before you can start your instructor course.
During the 6-8 weeks of your divemaster course is it possible to get 100 dives out of it. We are diving 3 or 4 times a day.
DDI Assistant Diver Course
We are the ONLY DDI instructor Training Center on the Gili Islands. DDI or Disabled Divers International is a non profit dive organization.
The DDI Assistant Course is a perfect way to extend your control techiques of divers if you are interested to dive with or guide disabled divers. It is a 2 days course where the instructor shows you all kind of techniques in the pool and the ocean.
Master Scuba Diver
During the divemaster course there is a chance to increase your diving knowledge and your diving skills. It is called the master scuba diver! You become a master scuba diver if you are advanced open water, resue diver, plus 5 PADI specialties and 50 logged dives.
We teach you all different kind of specialties like nitrox, drift, underwater photography, self-reliant, sidemount, shark conservation and more. You can use all this extra information later in your career as a divemaster.
Summary Divemaster Course
| | |
| --- | --- |
| Duration: | 6-8 weeks |
| Dives: | Average 1,5 dive per day |
| Price: | IDR 19.000.000* |
| Divemaster Application | A$ 245 |
Price includes PADI materials and excludes PADI fees