Scuba Review
You are a certified diver but it's been a while since your last dive? Or are you lacking confidence to go fun diving? The Scuba Review program at our dive resort is a great way to tune up your diving knowledge and skills and get you back in the water feeling comfortable and confident, all in less than a day.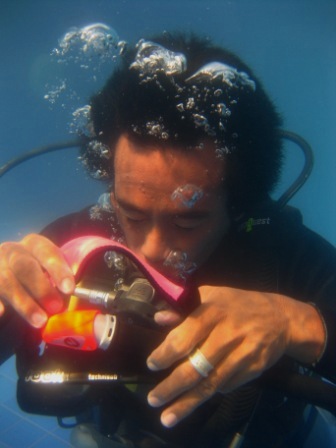 We recommend that any diver who has not dived for 1 year or more consider this refresher course. The fundamental skills and equipment set-up will be reviewed, as well as the theory. An ocean dive concludes this scuba review. All the practised knowledge and skills are done for you. So you can enjoy your dive in a safe and comfortable manner with your PADI dive instructor or with one of our local divemasters.
What kind of skills can you expect during a Scuba Review in the pool?
During the pool sesion you have to perform the following skills:
Remove, replace and clear a mask
Become neutrally buoyant and hover
Emergency weight drop
Alternate air source ascent. You have to act as donor and receiver
You are possible to practice any skills you like like to practice. There is no time limit. We like that your are comfortable in the water.
What to expect during the ocean dive?
After the pool session you will have an ocean dive. You and your instructor will go with our boat to one of the diving spots around the Gili Islands. During the dive there are no skills. You have done them already in the pool, isn't it? Your underwater adventure starts with a buddy check before you go in the water. During the dive you will amazed about the beautiful marine life. Hopefully you will see some turtles, clown fish, sea stars, and all the other fish.
After the dive you will log your dive with your instructor.
After this tune up you will be ready to join us for some fun dives!
Summary Scuba Review
| | |
| --- | --- |
| Duration: | 1 day |
| Price: | IDR 950.000 |